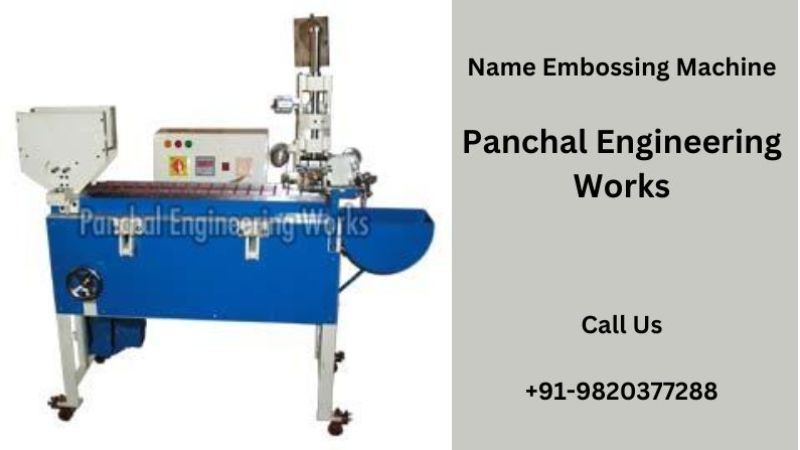 One of the most important embossing machines is the name embossing machine. This machine can help one print a name on hard materials such as iron, steel, or anything else. Any company can use these to carve names, numbers, or both on a hard surface.
If you are a factory owner or industrialist, you should know about such machines. You should know how to select the best name-embossing machine for your daily activities. This can help you to perform industrial operations more swiftly and without any inconvenience.
You should also know about the suppliers of such machines. You can do this by using keywords like name embossing machine suppliers online. However, you should also know how to select the most reliable manufacturers for getting the best machine.
How To Select The Best Name Embossing Machine
Name embossing machines are available in different forms and types. Each of these has different efficiencies depending upon their design and brand. Therefore, you should know the machines that a manufacturer can offer you.
However, it would help if you had a clear idea about the purpose of buying the machine. You should also know about the material the machine will imprint a name on. You should select a machine that will be efficient enough to carve the name on that material.
You might also consider checking the area that the machine will occupy. You should select the right size for where you will keep it. You should also know about the technological configurations of the machine.
It will help if you learn how the machine works and how to maintain it. You should buy one with great systems that run on low power and need less maintenance. It would help to talk to the seller about the machine's technical configurations and efficiency.
How To Select The Best Supplier Of Name Embossing Machines
Several companies can provide you with name-embossing machines. You can know about them by using keywords like name embossing machine brands. This can help you learn about the different companies near you that can offer such machines.
You can consider learning about the reviews by customers about each company online. These can be about the customer service or product quality of a company. You should select the one with the best reviews as they are trustful enough.
You should also check the varieties of name embossing machines a company offers. Generally, the best manufacturers or suppliers can show you machines of different types. These can have different sizes, efficiencies, or other qualities. This can help you select the appropriate machine of your choice.
You can also check the prices of the machines. It will be better to select a brand that charges relatively low prices without compromising product quality. You should also select a brand with the best customer service.
A Final Note
It would help if you never bought an old and rusty name embossing machine. You should not buy low-quality machines even if someone offers you low prices. It would help to buy such machines from the most reliable brands. This can help you make your industrial activities more efficient.