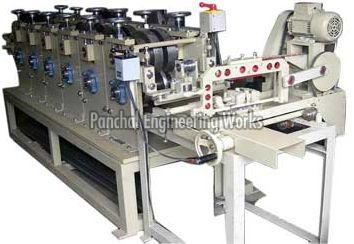 Those who are not associated with any industrial production are less likely to know anything about the making process of rolling shutters. Though many of us are not knowledgeable about the production of rolling shutters, we all surely know what a rolling shutter? A rolling shutter is none other than the metal coverings outside of any type of shops, offices, or even houses.


The rolling shutters are completely made with high-quality metal and need proper maintenance to function properly. Rolling shutters can be different in shapes, sizes, colours, and patterns. The bottom part of these rolling shutter machines is manufactured with the help of one special type of device that is known as the bottom forming machine.
These machines are available in innumerable options with miscellaneous functionality and programs. If you want to purchase these bottom-forming machines for your business requirements, we advise that evaluate some of the major matters. These things are very important and hold immense integrity when it comes to the matter of workability of these machines.


Therefore, we are presenting some of the primary aspects of the bottom-forming machine for a better understanding of you in case you are less aware of it.


Automation Grade
The foremost aspect that is required to be perfectly evaluated at the very beginning of purchasing any bottom-forming machine is none other than the automation grade. These machines have different functionalities. Some of them are fully automatic and therefore, don't need any manual labour.
Some of them are semi-automatic and require manual labour to some extent. Some models require full manual access or labour to function properly. So before purchasing any machine, evaluate this automation factor well.


Specifications Of The Product
Another major aspect of any such machine is the specifications of the products that would be manufactured by the machine. As we all know that bottom forming machines are used for the production of the bottom parts of rolling shutters. Now, not all the rolling shutters are the same, so the bottom parts of every rolling shutter would be different.
Therefore, before selecting this machine, check the maximum width and length of the bottom sheets that would be produced by the machine. Read all the specifications of the product that would be generated by the machine before buying.


Important Specifications
The third most important aspect is the detailed specification of the bottom forming machine. It's mandatory to read all the specifications of any machine like motor, voltage, power consumption rate, frequency, weight, power input, power source, working speed, and most importantly the production capacity.
When you are about to buy this machine do contemplate all these specifications well with additional supervision to avoid any inconveniences in the future. With all these factors, review the points like additional accessories, dimensions, and weight of the machine to get a clear idea for keeping it in an appropriate spacious place.


Price
The final and most significant aspect of ordering a bottom-forming machine is none other than the cost of the machine. Several bottom-forming machine suppliers offer this machine at various rates and offers. The price of these machines is majorly dependent on their various functionalities and additional features. The requirements are not the same for every rolling shutter. So the price can be varied for different options.


Evaluate your requirements for the machine first and then order a bottom-forming machine. This timely evaluation can save you from making unnecessary payments as well as help you to get the best product at an affordable rate.
Since a bottom-forming machine is an industrial instrument, it's not very easy to purchase it without proper guidance. If you feel confused and troubled, follow this guide that'll surely help you to purchase a bottom-forming machine without any fault.