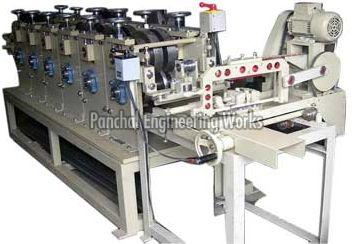 The bottom part of the shutters is having lock plates for installing locks in them. Generally, you will find two models i.e., L-bottom, and Super bottom.
You will get guaranteed satisfaction and protection in your shop by having this Bottom Forming Machine.
Technical Specifications:
You will find the automatic or semi-automatic model with material thickness in the range of 1.2 to 3 mm.
With the brands, you will find the variation in production capacity as well. Sheet width would be 190-192 mm while width for L-bottom would be 178-180 mm.
The main purpose is to manufacture the shutter rollers in high quality. Dynamic and heavy-duty body structures with easy-going maintenance systems will have a dual coated colour with lifelong protection as well. This machine will have some levels as well as micro turning to draw seamless and the best profile for designing various shapes.
If we discuss more its features, we should note down its durability and robust strength. It functions over a long time without any wear-tear. You will get the system installed for the years with major operational life.
Description:
The bottom machine with rolling shutters is also having controllers via the computer system. It is metallic but mostly you will get a steel shutter with galvanised coating, stainless sheet, or pre-painted metal sheet. The complete system would include the main machine, de-coiler, run-out tables, and computer controlling unit.
• Machines are fitted with metal sheets via smooth curves.
• Machines work out the best when functioned to their full strength as per the suggestion of Bottom Forming Machine Supplier.
• We may so any personalisation with its economical rates and specifications as well.
Salient Features:
There are many noticeable salient features as well.
• You can get the shutter in any shape.
• We need the customised designs in our shops.
• Maintenance is not asked at all while operating this machine.
• You will get consistency, reliability at greater strength.
• It is already available at competitive rates with the same durability.
More Minute Features:
We know that the rolling shutter-making machine is steel constructed with the rolls under which we will pass cut strip.
With a single pass, we will make rolling shutters via metal strip. Necessary supports and guidance are already there to go ahead with the rolling operation.
Any type of coil load is passed here.
Station levels are available as per the requirements of its quality and profile.
For different channels, the profile and its specifications would vary.
In India, you will find many exporters who use the proper raw materials, and hence there is an issue regarding the functioning and service life. Pure steel is cheered for this application while making everything sure as per the client's perspective is also very challenging.
Overall, you can see the better operation and function from authenticated brands with global standards. Even exportation of these productions is also done in nearby countries.
Fit the cost-effective approach in your shop's shutter at a reasonable price. For more features, you may search a little through different models.